Streetsville Horticultural Society contributes annually to the William Baker Youth Award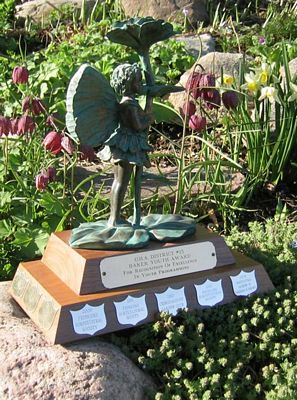 William Baker Youth Award
by Brenda Heenan, Past District 15 DirectorAwarded for recognition of excellence in Youth Programming
FROM A VERY YOUNG AGE, BILL BAKER displayed a keen interest in, as well as a talent for gardening.  He had good teachers and role models in his parents, the late Clarence and Florence Baker, both fine gardeners as well as driving forces in the OHA and The Toronto Horticultural Society.

They clearly understood the benefits to mind, body and soul that pottering around in the soil could bring, and instilled a love of the outdoors and gardens in all three of their offspring.

Tragedy struck. Young Bill died at the age of 16. Clarence and Florence decided that they would continue to nurture and inspire young people in the garden. In memory of their son, they donated funds to the 0HA, District 15, for the establish of The William Baker Youth Award.

That was over 40 years ago. Each year, two deserving Horticultural Society youth groups from District 15 are chosen to receive the trophies and cheques, which are awarded for horticultural excellence and enterprise. The awards are presented at the District 15 annual general meeting by Arlene Baker Drew, Bill's sister.

The Baker Fund welcomes and receives donations every year from District 15 societies interested in supporting youth activities across the District.  Thanks to their generous support, the Baker fund was able to assist with financing the OHA Youth camp hosted by District 15 during the 2008 Convention in Brampton.